Social Media is a continuously evolving tool that brings with it new opportunities with social media listening to gather valuable insights about your customers, your competition, and your industry.
The real question isn't always whether social media listening is possible — but, rather, what we can do with social listening.
It's hard not to be wowed by the sheer amount of information available about your target audience via social media channels.
From Facebook and Twitter to Instagram and YouTube and then the myriad of smaller networks that exist (and undoubtedly, more that we don't even know about yet), it can feel like a digital minefield for anyone looking to get their brand in front of the right people.
So how should marketers navigate this landscape?
With all this information, brands can get lost in the noise, and may even put themselves in the position of passive social media listeners.
This approach must be avoided at all costs. Brands should view social monitoring as a vital aspect of modern customer care.
What is Social Media Listening?
Social media listening is a process of receiving, analyzing, and evaluating online conversations about a company, its services, products, competitors, industry, or any topic that might affect or benefit the organization.
SM listening helps identify major trends in conversations about a brand or industry.
It is also the process of listening to the available information.
The information can be found in open or closed social media sites, blogs, forums, ratings/reviews, tags, and other publicly shared information.
In order for a nonprofit to have a social media listening strategy that can be implemented through technology, it needs to have some sort of decision-making criteria as well as a process for responding to information as it is collected.
How does social listening improve customer experience?
Social listening enables an organization to both hear and analyze every positive and negative conversation via social channels.
It allows an organization to be proactive.
Because social media monitoring utilizes natural language processing (NLP) which can determine sentiment it also allows for brands to respond quickly to concerns or issues in order to retain customers before they reach out to competitors for service.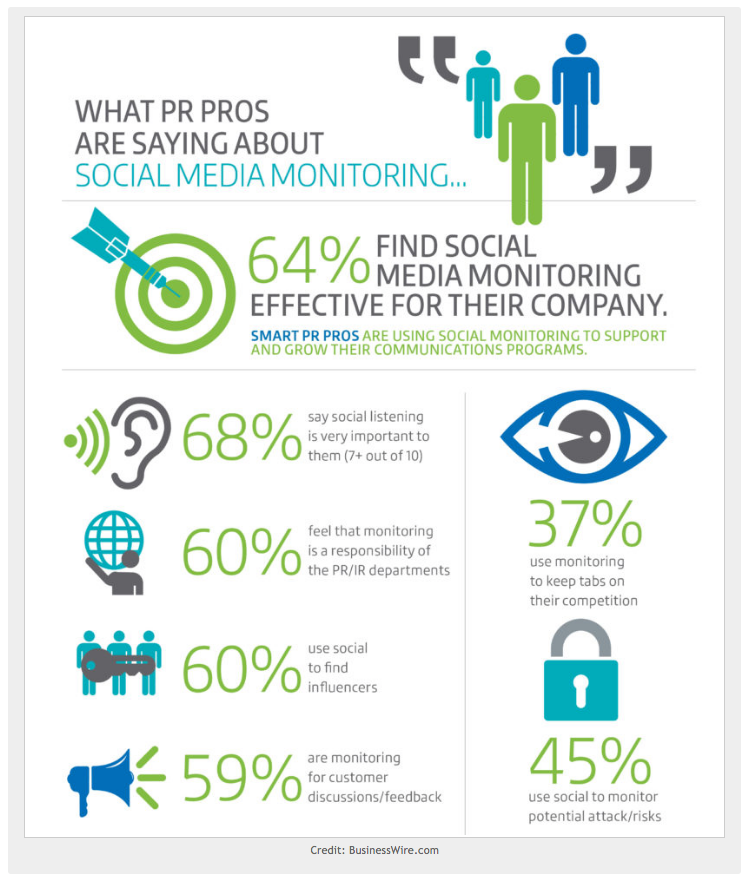 Social media is a great place for business owners to share their story but it's also a great place for customers that are already customers to tell your business what they love about you and what they want to see in the future.
Social listening is a key customer intelligence gathering activity, allowing companies to identify and analyze all social signals in real-time.
For example, using a social media monitoring tool, organizations can track various brand mentions on social media and then organize these into a central place from which they can monitor, analyze and follow the conversation across a variety of platforms.
What's the Difference Between Social Monitoring and Social Listening?
Social listening helps you to develop better relationships with your customers, strengthen customer service, market more effectively, improve engagement with your brand, and gain brand insights.
Much of the information on traditional customer support channels are reactive in nature, which means the response time is too slow to address customer issues.
Social listening can be used on social media networks to identify customer complaints faster and respond to them faster.
While social monitoring is passive in nature, social listening is proactive.
Social monitoring helps you to determine what people are saying about your brand. Social listening goes further to determine what people need, want, and desire. It helps you to develop new products that meet the changing demands of your target market.
By measuring the sentiment of your audience on social channels it is possible to find out what the perception is of the brand.
The ability to see what customers want to know about a brand or product creates a powerful marketing platform.