Linkedin B2B lead generation strategies have been evolved since 2010 at the full pace as the lead generation took a proper shape through social media marketing.
LinkedIn has extensive audience data Be unique to them and perfect for targeting your ideal customer.
Because of the audience data on LinkedIn declarative, i.e. individual customers willingly provide it. It is also updated very frequently and highly specific.
Because LinkedIn is a platform for work and professionals, users provide information that they are not motivated to share or update on profession changes and other platforms professional interests.
The common type of advertisement models on LinkedIn is primarily
LinkedIn Awareness Campaigns
LinkedIn awareness campaigns are focused mainly on showing more eyeballs on your ad, which can be an image ad, a video ad, or a carousel ad.
This type of ads will give great brand awareness for your product or service, but there won't be great conversions part with this.
Consideration Campaigns in LinkedIn
Consideration ads will mainly have 3 types of subdivisions in that, they are primarily targeting the audience for website visits, engagement, and video views as shown in the above image.
Conversion Campaigns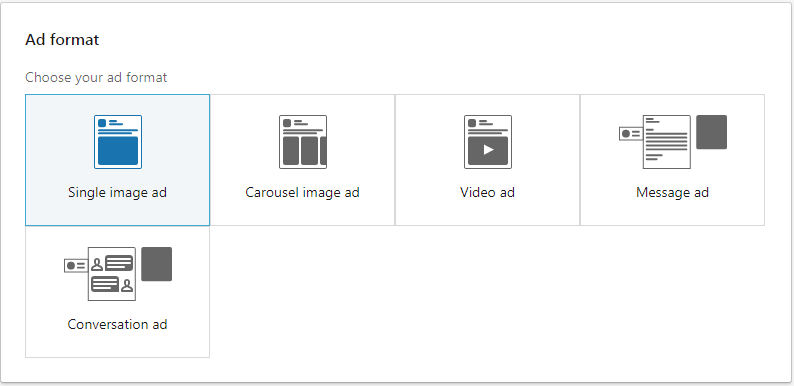 Conversion campaigns are something we will have to look at for the LinkedIn B2B Lead Generation campaigns.
There are 5 types of ad formats listed in the LinkedIn lead generation campaigns
Single Image ad, that aims to show the ad to the audience based on the pre-defined metrics and criteria like age, gender, location, professions, and so on.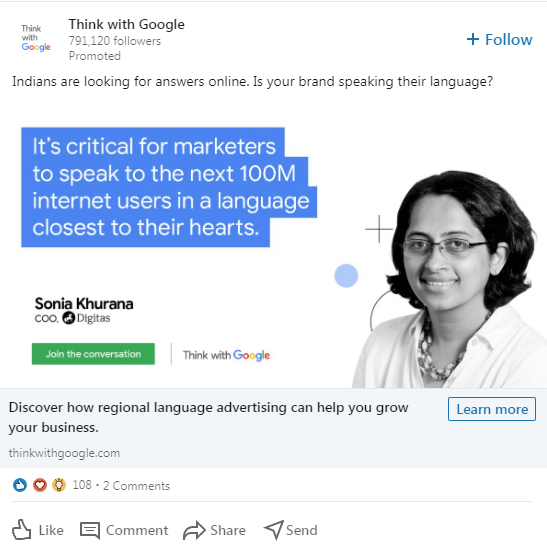 2. Carousal Ads, so called multiple images ads in a flow, will give us an option to put up to 10 images in the row to showcase your ad.
Carousel ads on LinkedIn allow you to tell an interactive story to motivate your target audience to take action.
Also Read: Understanding the Differences between Product Marketing vs Product Management
Make the most of your campaigns with these tips to help you identify your goal, create effective content, and prove your carousel advertising value.

LinkedIn Carousal Ads are more suitable for eCommerce product listing and also especially for the businesses who would like to promote multiple products or services at a time.
3. Video Ads
Video ads in LinkedIn, allows brands to engage with professional targeted audiences at every stage of the customer journey. Unlike pre- or post-roll video ads on LinkedIn, they appear as a local standalone post on the LinkedIn Newsfeed
Video ads on LinkedIn offer targeted options similar to other LinkedIn advertising formats. These can help brands achieve marketing goals across the entire funnel
Raising brand awareness with engaging, visual stories
Drive qualified traffic to websites or post-click landing pages
Collecting leads with the CTA button or the lead gen forms
4. LinkedIn Message Ad
As with all other ad formats on LinkedIn, you only pay when someone clicks.
But with LinkedIn messaging ads (formerly sponsored in-mail), you have to pay to send it to those who do not guarantee that they have received it, to open it or click on the link inside.
Because there are so many steps between accepting an ad and clicking on your offer, messaging ads can quickly become expensive.
5. Conversation Ads
Conversation ads allow you to initiate conversations with experts and business decision makers via LinkedIn messaging on desktop and mobile devices.
They are a form of local advertising displayed to LinkedIn members by messaging based on the target audience created by the advertiser.
Conversation ads appear to be sent from the profile of a company or LinkedIn member. Learn more about sender permissions. Ads appear in the message with the sponsored label.
Why LinkedIn Marketing is Ideal for B2B Marketing?
LinkedIn is most ideal for B2B marketing because, initially this social networking site which was started way back in 2003 was mainly to focus on the corporate professionals.
Way back in 2003 and up to 2010 this professional network aimed to connect the recruiters and employees through a free network but over a period of time.
And it turned out to be a great platform for B2B marketing as there are highly qualified professionals are there in this platform.
The best thing about LinkedIn Paid campaigns is that there is an opportunity to target the audience based on the
Company Industries
Job titles
Job Experience
Company size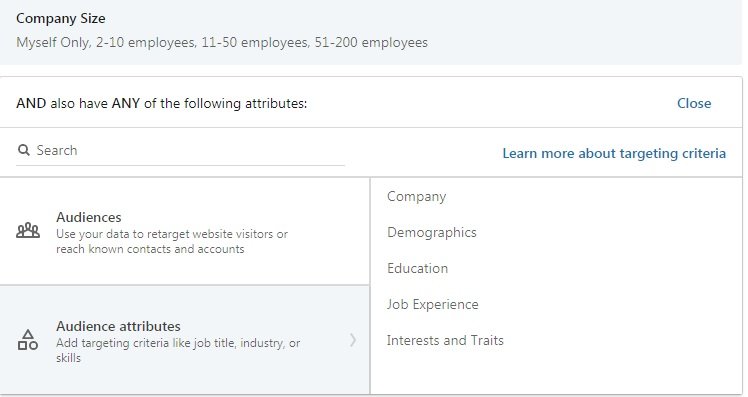 I hope this would be enough to target someone of your niche, who could be your potential customer.
How to generate b2b leads on LinkedIn?
LinkedIn Lead Generation is quite different from the other ad networks like Google and Facebook, the key difference here is the targeting is based on the professions.
which is very much ideal for B2B lead generation.
Say if a company would like to promote a product to Chief Executive Officers of 500 plus employees companies, the metrics here are very much clear.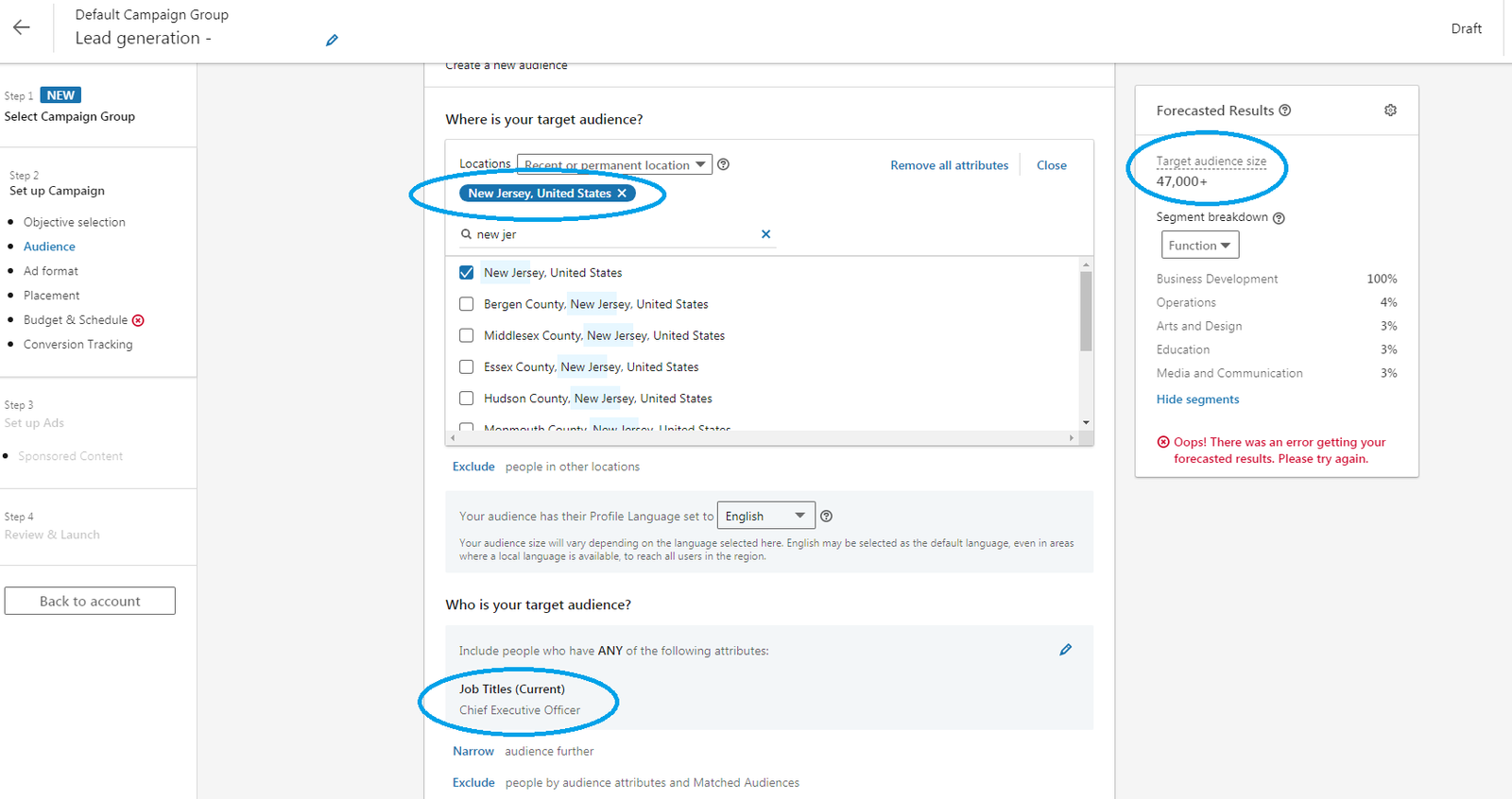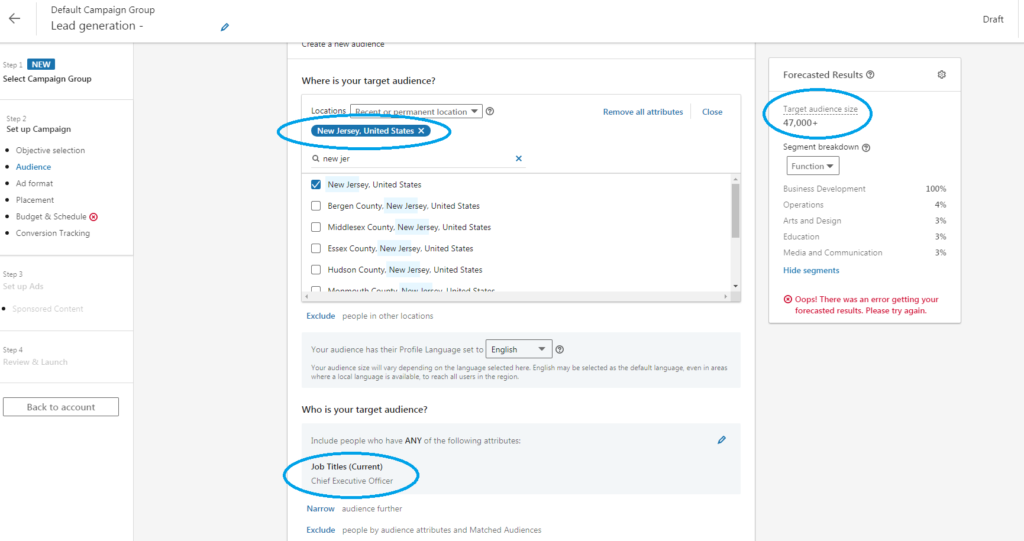 The forecasted results says, there are around 47k CEOs are active in Linkedin, in the given location New Jersey, USA.
This clearly gives an option to target them with the above given ad formats.
How Does LinkedIn Bidding Work in 2021?
LinkedIn bidding can be tricky if you have not previously advertised on the platform or do not know how to charge LinkedIn for a campaign.
Using automatic bidding is sometimes the default, as it states that it will provide more results for your campaign.
However, this is not always the true scenario.
Let's look at the difference between automated bidding and LinkedIn's cost bidding (manual) options and you should consider making the most of your campaigns.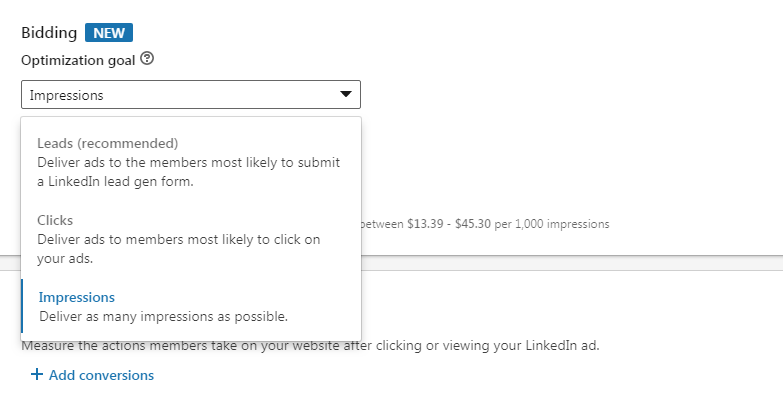 If we ignore the automated bidding for instance, there are 3 types of bidding models available for 2021 LinkedIn b2b lead generation model
Leads
This is highly recommended as the AI algorithm will itself optimize the campaign and will show the ad to the right people where the chances of conversion will be more.
Meanwhile, we will have to consider that, the bidding price may differ from one country to other.
Say for India, the bid range will be between $1.25 to $5 per click whereas, If we are targeting audience in USA, the bid range will be between $4 to $8 per click.
The chances to lead form fill ups will be more for this type of bidding
If your aim is not just leads but if you would like to bring your audience to your website, this would be an ideal option and the bid will be Cost per Click.
CPM (cost per thousand Impressions) bidding is basically a bill based on the number of customers who view your ad.
This is not a complete guide without filling in some of my favorite tips from managing LinkedIn ads for the first time!
Here are some things that can help improve your first LinkedIn advertising experience a Successful for your team and your business.
Video ads
Clicking on the video will pause the video instead of directing it to your landing page. Include a call-to-action button in the ad and always add a short link at the end of body text for easy navigation to the page.
Minimum audience
The minimum audience size for LinkedIn ads per campaign is 300 users. Smaller audiences may make sense for uploaded lists or remarketing, but for prospecting, we generally recommend a size of at least 200,000 using LinkedIn audiences.
High CPC
Advertisers are often surprised by the cost of LinkedIn traffic, but it does match the quality of targeting the audience. If you follow the other suggestions in this guide and compare the major resources with each other, you will often find that lead quality justifies it.
Consider the entire company
In B2B marketing, it is important to have an impact on decision makers. But limiting your audience to just the top is limited and expensive, and they will never be there to assess partners or start an investigation. Reduce your limit to stand in front of managers who are key influencers.
UTC time
The date and time in the LinkedIn Advertising interface is UTC / GMT (Greenwich Mean Time), so if you are on the west coast of the US, consider when spending monitoring or scheduling campaigns and closing times.
Weekend Fever
LinkedIn is a business network, so usage – and therefore advertising service, clicks and cost – will all drop significantly over the weekend. Some campaigns still expect a 25% cost reduction with a bigger reduction.
Budget compassion
Budget adjustments on LinkedIn can be felt much faster than other advertising channels you are currently running. If you reduce the budget in the campaign and check after a few hours, do not be surprised to see a large spike in volume.
Sponsored In-mail
Images Banner images are not much better for performance. If you do not include one, the competitor banner will be useful if they target the same users. This is what we hope LinkedIn changes, but there is definitely a way to prevent it from happening – add an image!