Curated content is content that you share, but didn't create yourself. Curated content is often found on sites like Instagram and Facebook, where people post photos or videos that have been selected by a curator. Curators can be friends, family, experts, or even brands.
There are many reasons why someone might choose to curate content. Some people might want to showcase their favorite things while others might want to promote a specific message or perspective.
Today, curated content is increasingly popular because it gives users a sense of trust.
How is curated content used?
Content curation is the process of selecting, organizing, and presenting content for consumption. By organizing and presenting content in an effective and engaging way, curated content can help customers find and consume the information they need in a convenient and efficient way.
This can lead to increased sales, as customers can more easily find what they are looking for and make better decisions based on the available information.
Also Read: What is conversation analytics and how does it work?
Curated content can be helpful for a variety of reasons. For example, it can be useful for providing information about a specific topic that is not available through other sources. It can also be helpful for providing information that is difficult to find or access.
In addition, curated content can be useful for breaking down complex topics into more manageable pieces. This can help customers understand the information more easily and make better decisions.
Finding content from a range of sources that is applicable to your audience and then strategically disseminating that content through the channels of communication you use is an essential part of content curation.
Imagine that you work for a marketing agency. You might compile a list of the best demos of various products and publish it as a blog post, then provide some background information about your selections.
Why is curated content valuable to the user?
Curation of content is valuable to the user because it allows for a more focused and relevant experience. It also helps keep the user on track by providing topics that are of interest to them. Additionally, curated content provides a sense of community and support, as users can ask questions and receive feedback from others.
Credibility is built when you curate information since it helps you become an authority in your field, as well as a respected and sought-after go-to source.
Lead Generation: Having content on your website that is of high quality can bring a significant amount of traffic to it, which in turn will boost your chances of attracting qualified leads for your company.
3 Best approaches to the content curation
Numerous companies compile informative articles taken from other online resources, arrange them, and distribute them to their audiences; in doing so, they transform their brands into an online magazine that compiles and disseminates the finest content discovered on topical areas that users will find interesting.
The objective is to make your website a "one-stop" destination for the most up-to-date and comprehensive information about your company's goods and services, thereby relieving customers of the obligation to conduct research on associated topics elsewhere.
Blog Posts: Some companies select the most relevant articles written over the course of a certain amount of time and then publish them on a particular day of the week or month. Because of this, their readers develop the expectation that the best articles will be delivered to them in a format that is easy to digest and at a time that is consistent. One good illustration of this is the weekly post that Hootsuite makes titled "This Week in Social." In it, they discuss the most recent fashions, announcements, and features that have emerged in the realm of social media.
Newsletters sent via email – Email is another fantastic channel for content curators because it offers direct contact with the consumer. Newsletters sent via email are also an excellent way to distribute content. You have the ability to provide them with high-quality content on demand, relieving the users of the need to actively seek it out. The A/B testing feature is available on many email marketing platforms, such as AWeber. This feature enables users to compare two or more headlines to determine which one receives the most clicks.
Social Media: Sharing on social media and making available helpful information provided by other influential figures in your field can result in significant gains on these platforms. It demonstrates to your followers that you have confidence in yourself and expertise in your field by demonstrating that you are knowledgeable about your business and that you value the opinions of other influential people.
What is curated content on Instagram?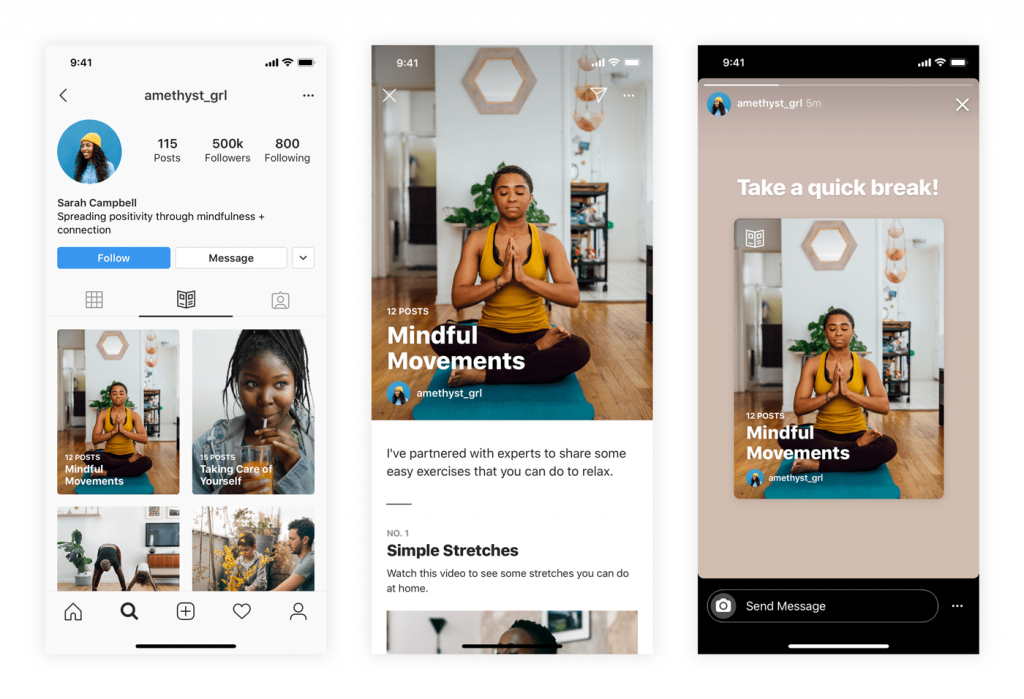 Instagram is a popular social media platform that allows users to share photos and videos with friends and followers. The platform also has a feature called "curated content" which allows users to follow specific accounts or hashtags that are dedicated to showcasing curated collections of photos and videos from various sources. Curated content can be a great way for users to discover new content and connect with like-minded people.
SEO benefits of content curation
SEO benefits of content curation are twofold. Firstly, it allows businesses to create more cohesive and engaging content for their website, which can help to drive traffic to their site.
Secondly, it can help businesses to better target leads and customers through the content they produce, as it is likely that those that are interested in the topic will be more likely to read and engage with curated content than random blog posts.
Other SEO Benefits
Increased exposure for your content
Increased engagement with your audience
Increased traffic to your site
Improved SEO rankings
Improved brand awareness
How Much Content Should You Curate?
Now that you know what curated content is, you need to start thinking about how much of it you want to use in your content marketing strategies. This is something you should start thinking about as soon as possible.
In order to help establish your brand as a thought leader and to get the other benefits of curated content, you want to have a healthy amount of curated content in your social media feeds. On the other hand, you don't want to be nothing more than a link-sharing machine.
A good rule of thumb is to try and have curated content make up about 30 percent to 60 percent of your total content on social media, leaving the rest of your content calendar to be your own original posts.
While there is no clear consensus on how much curated content to post, a good rule of thumb is to try and have curated content make up about 30 percent to 60 percent of your total content on social media.
You can then start repurposing your older content and resharing previously published posts to assist you in avoiding the necessity of creating brand-new content on a daily basis.
When you are selecting content to curate, it is a smart idea to keep the emphasis on the quality of the posts rather than the quantity of posts you select.
When it comes to social media, it is always preferable to post on a less frequent basis rather than to post low-quality links or content.
Invest a significant amount of time in establishing the credibility of the origin of curated content, and make sure that it constitutes no more than a portion of your overall content marketing strategy rather than the primary focus.
Conclusion
In conclusion, curated content is a type of content that is created by editors or curators. It is usually presented in a different way than other types of content, and it can often be more interesting to read. Curated content can be used to engage with your audience, and it can help promote your brand or product.