Social Media Automation had gained momentum and Social Media has changed a lot in the last decade — and the way marketers operate social media channels has also changed.
Social media automation is using software tools to perform tasks that take some time to maintain a professional social media presence.
you need to enlist the help of some social media automation tools to save your time while working on your digital marketing strategy
All of these social media tools make it easy to automate worldly tasks as you grow your business.
all social media tasks cannot be done automatically. The ones that look lazy, spammy, or fake are better kinds of automation.
Integrating social media automation into your workflow can take some of the initial legwork, especially if you make a habit of doing everything yourself.
Social management platforms manage multiple social profiles in one place, pre-schedule posts, run contests, track analytics on platforms, and the list goes on. These tools really change the game for your social strategy!
Online tools that help you automate keeping your social media profiles fresh and attractive, without spending your free time on your phone!
1: HootSuite for Social Media Automation
HootSuite is one of the most used social media automation tools out there. If you have not yet learned the full range of this social media automation tool, there are many features that HootSuite can help with, then I recommend you start right away.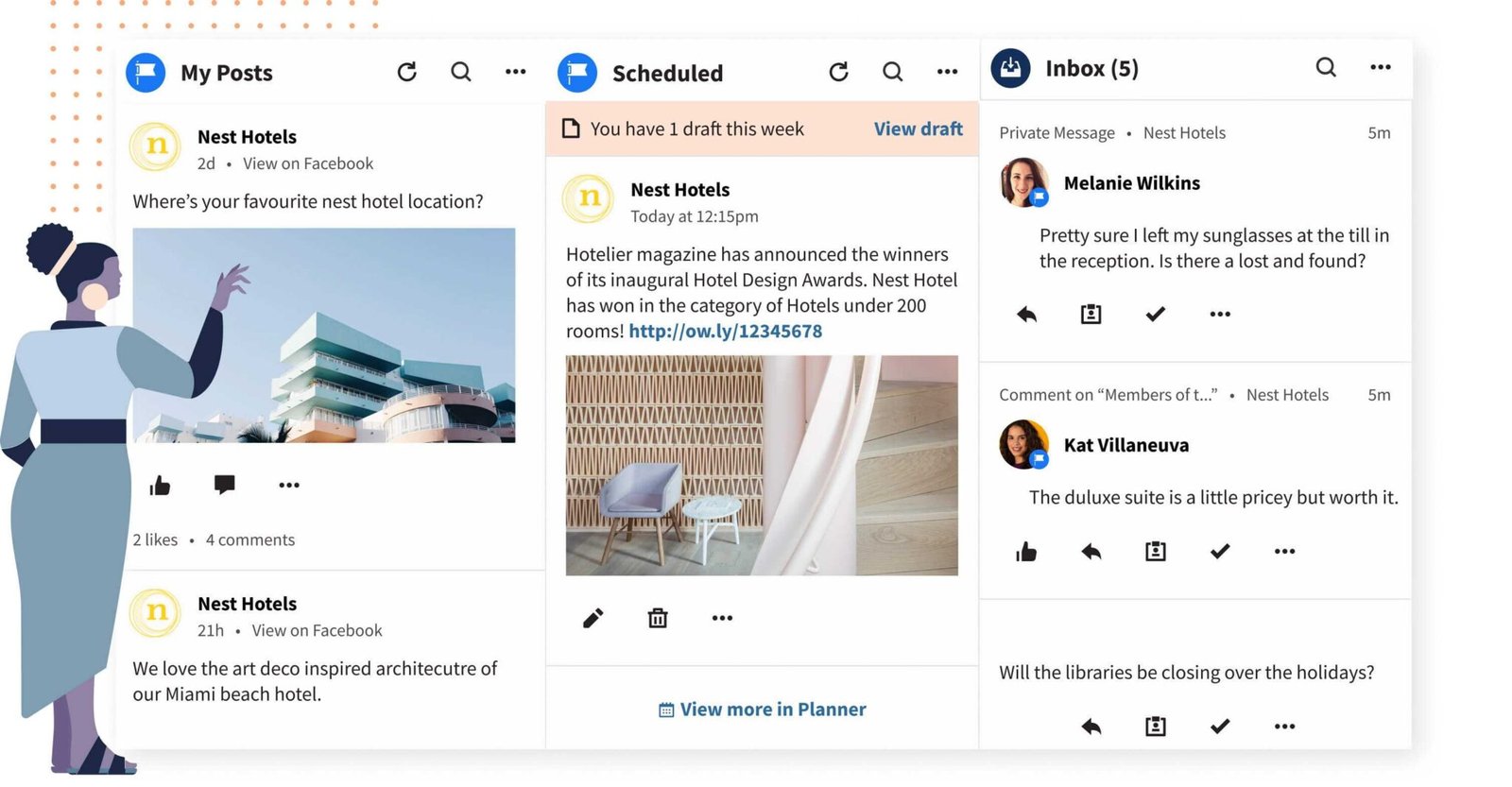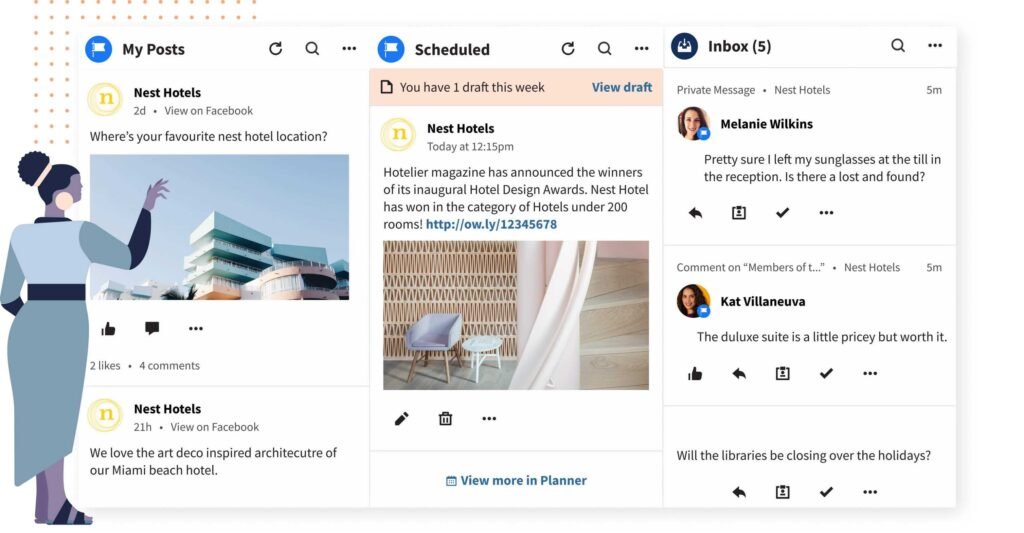 HootSuite gives you the ability to track different social media channels simultaneously. It helps you maintain brand monitoring with its real-time updates. Used to schedule your posts and monitor competition. Using search streams, you can easily build a community of followers.
HootSuite
Can manage 3 social profiles in one place
Schedule 30 posts in advance
Create leads with social competitions
2. Crowdfire Social Media Automation
Crowdfire is a tool to maintain Twitter and Instagram followers. However, it has recently received a major update and has become one of the most advanced automation tools.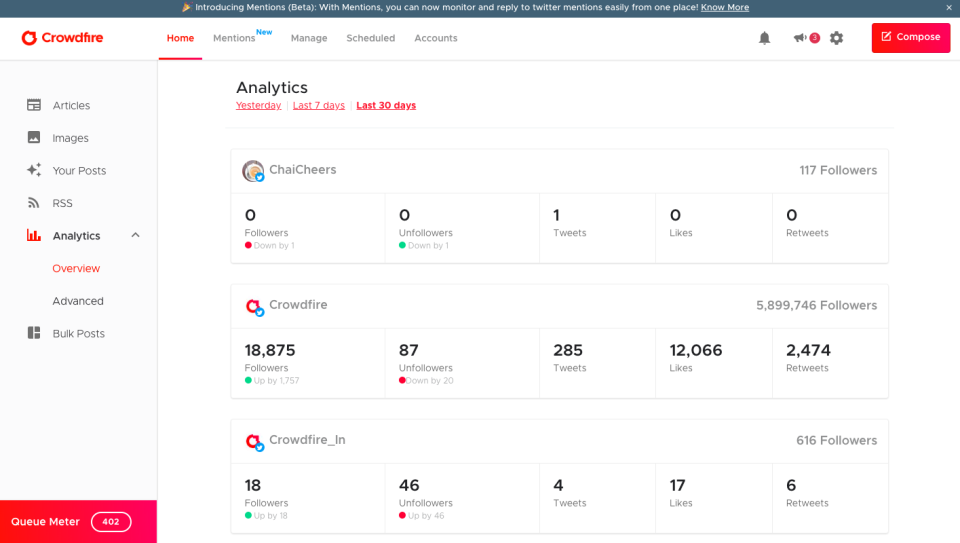 Crowdfire allows you to find inactive Twitter users so you don't have to follow them if you want to.
You can monitor any other user with its "Copy Followers" feature.
To find the best content to share with your audience, the Curated Posts feature will help you.
The tool can do cross-platform content posting automatically and indicate the optimal time to post it.
It is also worth using if you want to find the right coding and content to share with your audience.
3. Tailwind Social Media Automation
Tailwind allows users to schedule Instagram and Pinterest, but you also have access to advanced analytics to measure which content resonates best with your audience. With the data that Tailwind collects, you will quickly see your account growth trends based on engagement, content type, and time of day.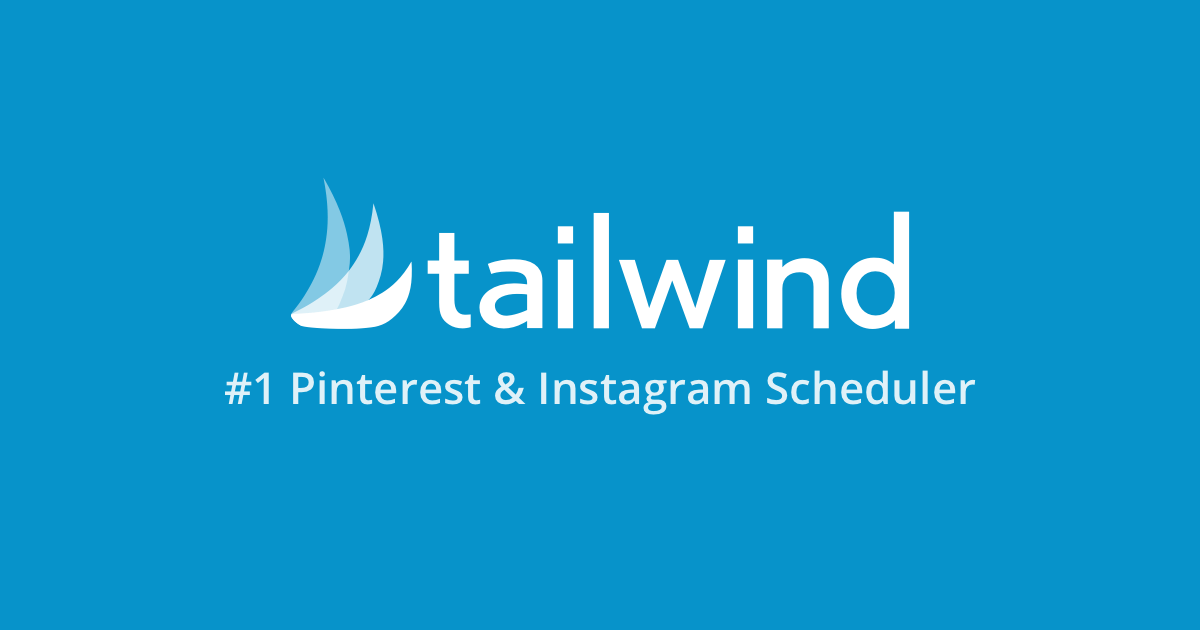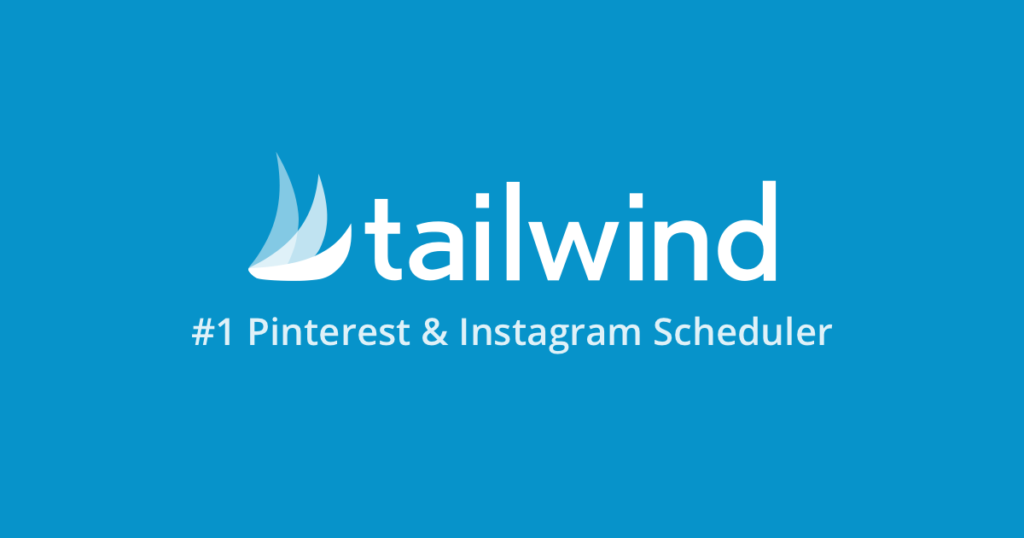 For Pinterest, you can also see which browsers on your boards make the best followers. SmartSchedule automatically picks the best publishing time as your audience browses their feed.
Tailwind also has its auto-updating smart bio feature, so you only have to set your bio link once. Then when you add a link to any Instagram post, Tailwind will automatically update your custom landing page so that everyone can click on your website, blog post, or product list.
4. IFTTT
IFTTT means If This Then That.
It is a platform that allows you to create automation called applets that connect different services with one command.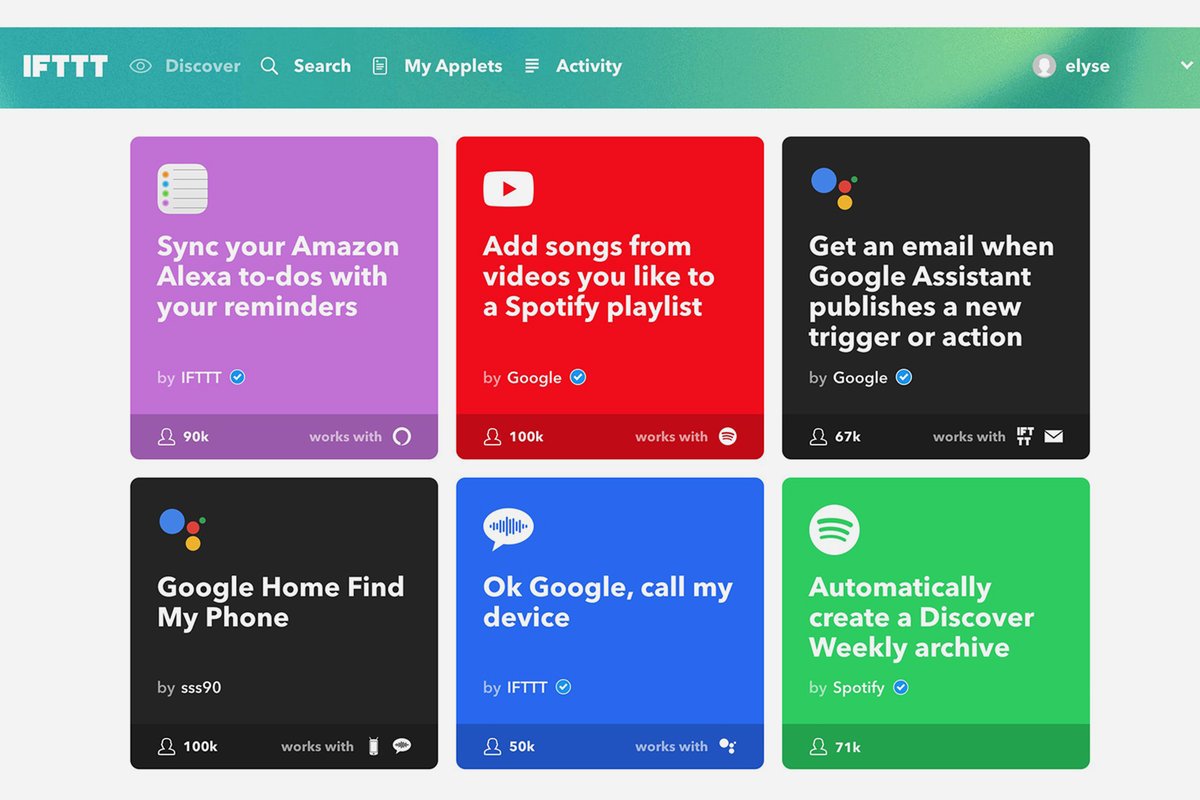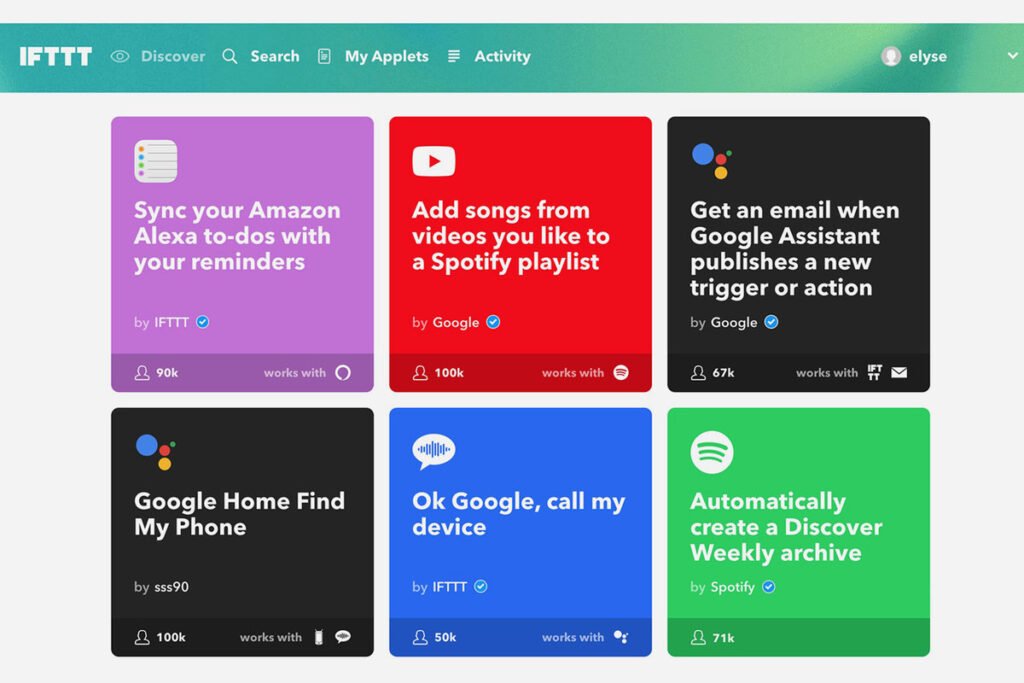 Once all your services are connected, IFTTT allows you to create "recipes" to create a chain reaction after taking an action. This free tool allows you to set rules for how different tools, applications, and social media platforms can motivate each other.
5. Buffer
Buffer is also known for its comprehensive analysis. If you want to know how your social media strategy works, the tool is definitely a great help. The tool is upgraded on a daily basis. There are various packages that customers can choose to suit their needs.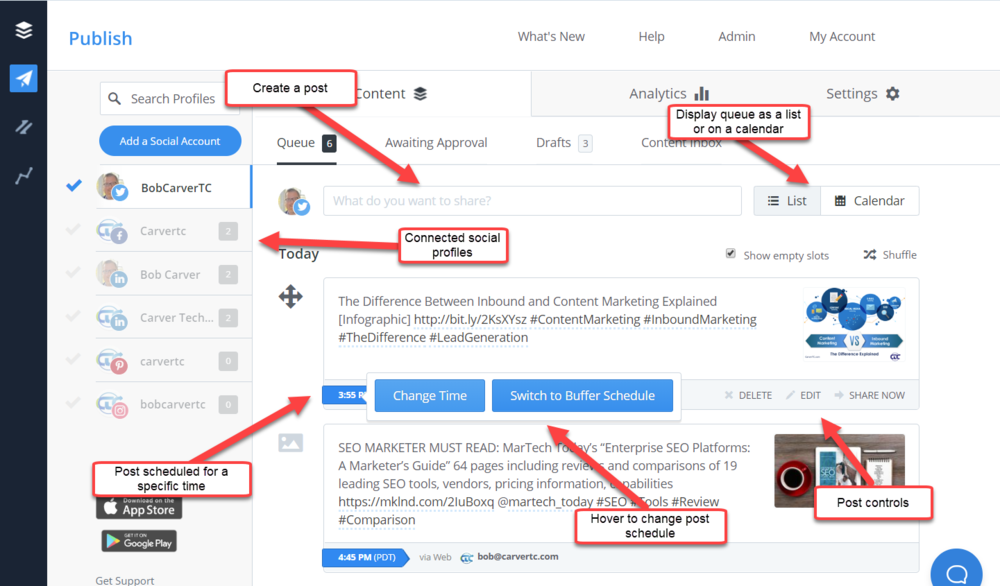 Twitter is a great platform to build your credibility on a particular topic. By sharing content from your industry and interacting with others in the same field, you can quickly internalize yourself.
With one click of the buffer's Google Chrome extension icon, any webpage you have instantly becomes a tweet-ready summary and is saved in your account for schedule.
6.Mail‌chimp
MailChimp is a favorite tool for small and large businesses to set up email marketing campaigns and maintain email lists.
For personal use, it is very easy to combine the features of the MailChimp with the free Squarespace website (read the how-to guide here!) To turn your personal page into a lead-generator without extra work.
Mail‌chimp empowers you to create and run email campaigns with minimal time commitment, from the upcoming page to the weekly newsletter.
7. BuzzSumo
BuzzSumo is popular with content marketers because it's great for finding trending content. Results can be filtered based on location and domain. You can find influencers here and build relationships with them.
All you have to do is provide relevant keywords to automate your research. The tool may be a bit expensive compared to other apps, but it is definitely worth every penny (if used wisely).
You can filter results based on the specific location, domain, platform, etc.
Buzz Sumo tracks different platforms like Facebook, Pinterest, Twitter, and more to calculate total content.
In addition to content, you can also look for influencers and focus on enhancing your relationships with them.
It has Content Analyzer, Question Analyzer, Facebook Analyzer, and many more features.
8.Socialert
Many marketers these days complain that there is a lot of noise on social media. To do brand monitoring and keyword analysis, they often have to spend a lot of time and effort.
SocioLeart can help you right here. This tool makes the process of listening to social media effortless with tons of additional features.
You can easily track hashtags and keywords on a real-time basis. The tool notifies you whenever a specific keyword is mentioned so that you never lose the conversation.
This way, you can easily collect user-generated content, monitor the brand, look for industry influencers, and much more.
It helps you calculate the scope and impressions of your content. You can filter results based on time, location, moods, etc.
The tool provides in-depth reports that can be exported in CSV format.
9. ZohoSocial
ZohoSocial has many tools and features that other platforms have, but they also include Facebook Lead Ads, Advanced Reporting Features, Social Share Browser Plugin, and CRM Integration.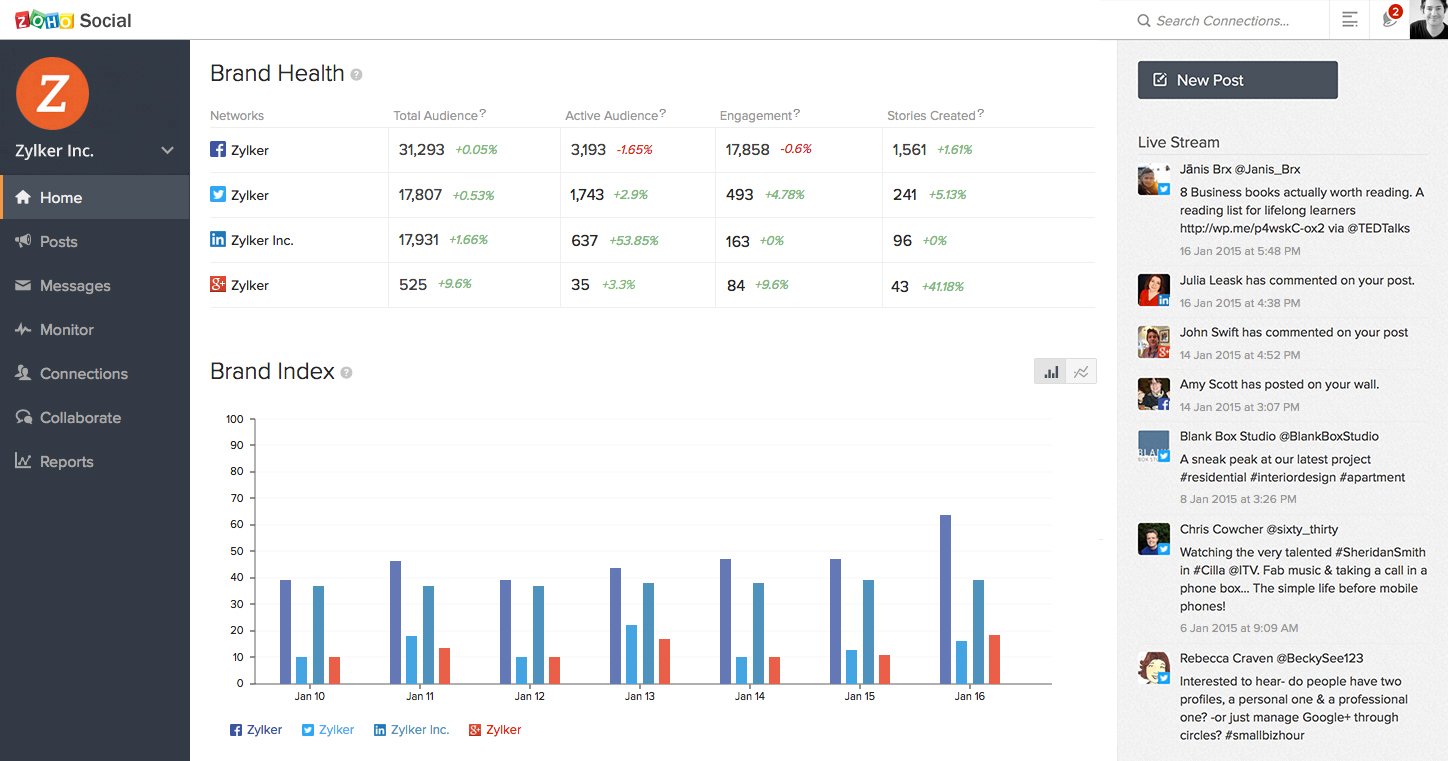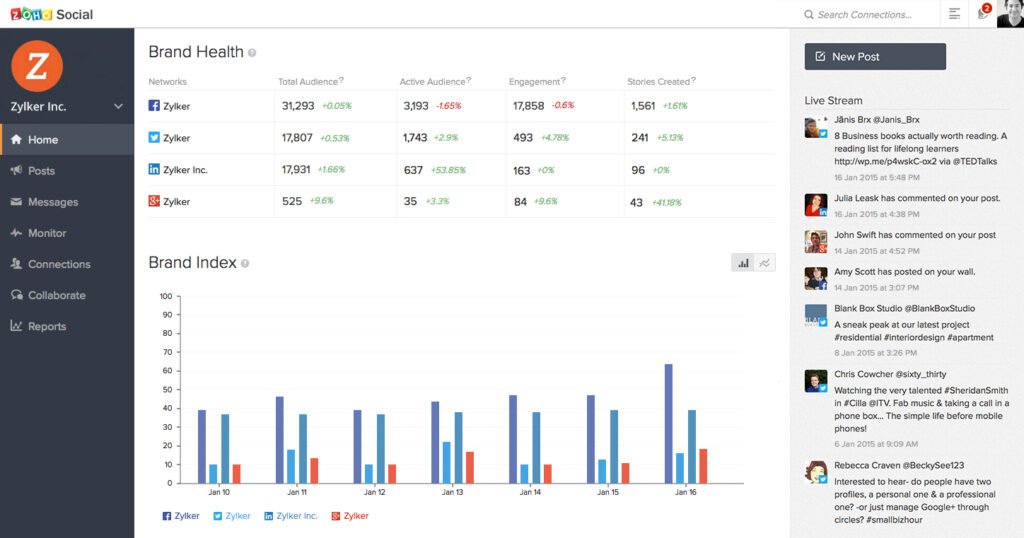 Zoho offers social agencies, so marketers have a choice between business or agency plans.
Payment plans range from $ 8.33 to $ 125 + for larger agencies. ZohoSocial's Free Plan 1 allows you to manage the brand and includes the URL Shortener and the Social Share Browser plugin.
you can schedule as many posts as you like with Zoho Social and monitor keywords & trends. This is great for teams collaborating on social media.
10. Awario
Awario is a powerful social media listening tool that makes it easy to track keywords and brand references on the web, including Twitter, Facebook, Instagram, and YouTube.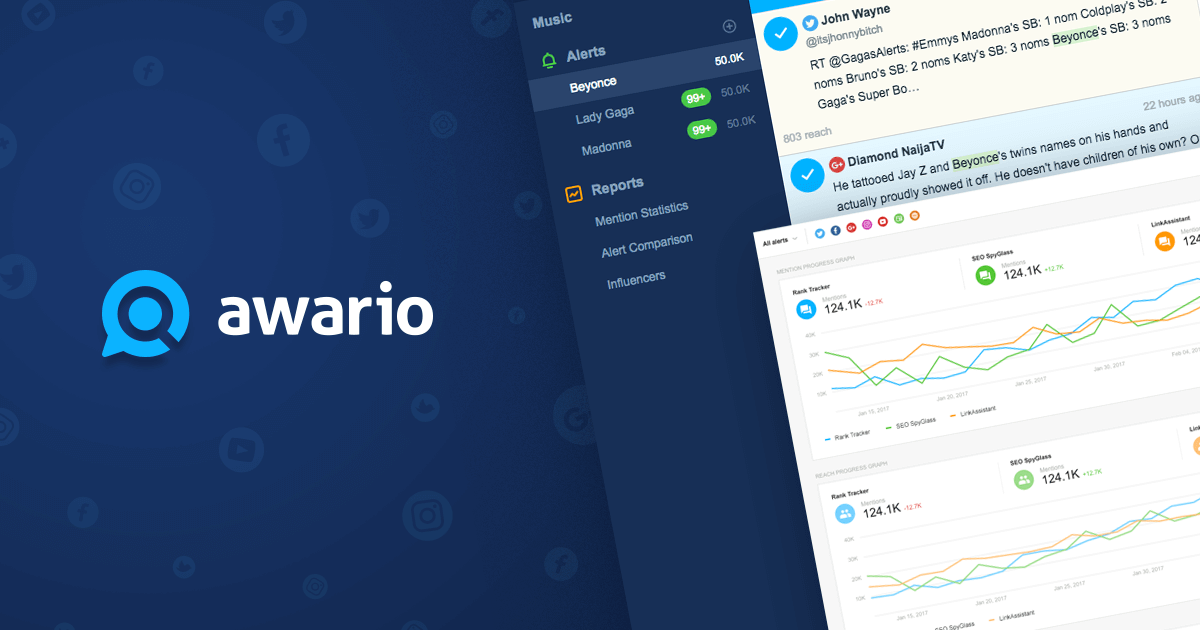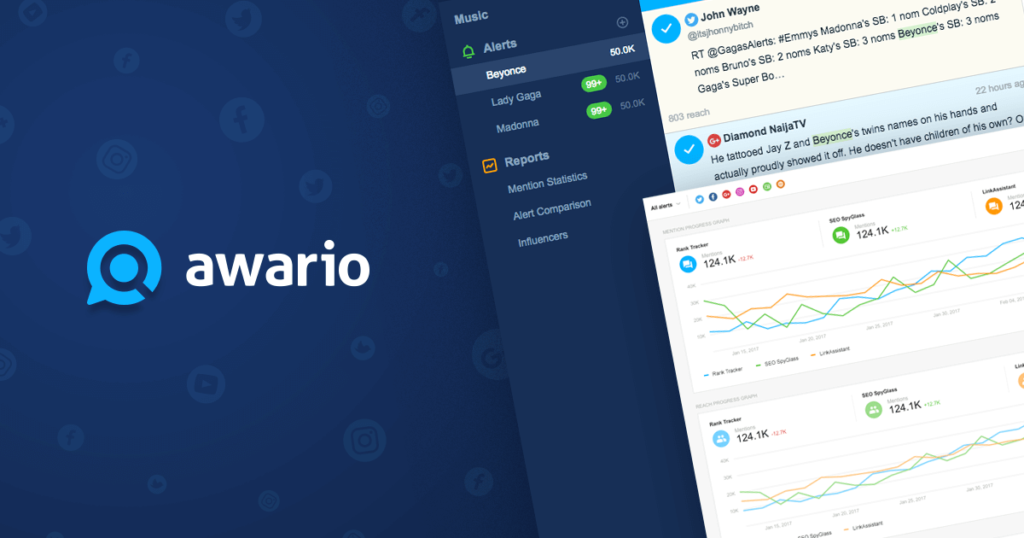 It tracks your keywords irrespective of language and location. So whether you are a small business that oversees local media or global brand monitoring everywhere, you will be able to gather the references you need.
This tool automatically updates and displays your social media analytics on the dashboard.
If you're strapped in for a while, you can set up email alerts in Avario and get summaries of daily or weekly new quotes directly to your inbox. Or, if you prefer, you can get real-time notifications on the slack channel of your choice.
In addition to the real-time dashboard, Avario produces customizable reports (in pdf or Html) on social tolerance, voice sharing, and influencers that you can share with colleagues.
Monitors the web for real-time reference of your keywords
Tracks the increase in the number of your references
Provides daily or weekly summaries of new quotes directly to your inbox
Creates reports on social listening, voice share, and influencers